28th Oct 2016, Shawka Dam, UAE
Dear Pete,
Following a long, hot and humid summer in the UAE, the sudden drop in temperature marks the start of the outdoor season and a chance to wheel out Zeùs under dark skies again.
Our dark sky location is situated approx. 80km east of Dubai, towards the Omani border near the small hillside village of Shawka. Amongst the craggy rock landscape, I set up in a public car park 421m above sea level. The overall seeing was good with above average transparency despite the Dubai sky glow to the western horizon. The eastern and southern sky was the main target area for the night.
Whilst eagerly awaiting Orion to r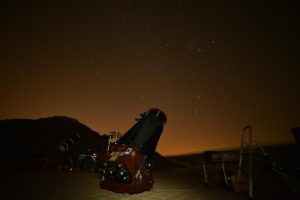 ise over the hill range, I spent time in Auriga taking in the fantastic views of its open clusters with M37 stealing the show. The depth, structure and colour on offer was truly remarkable. A short slew over to M35 which was made better by the compact open cluster NGC 2158 bombing the view in the background.
The Planet Uranus was high in the sky and displayed a sharp disk with a sprinkling of faint moons accompanying it. Nice. Continue reading →